March 27, 2022 ralo olive oil Spring 2022 News Update (sent by email newsletter)
`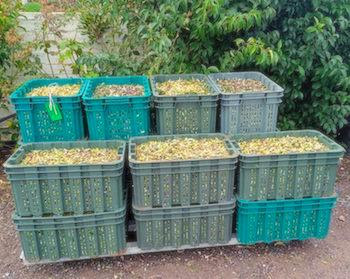 Dear Friends,
We hope this note finds you well.
The surreal events of the past couple of years, including recent geopolitical upheavals, are all too real and have ushered in a grave new world...
NEW HARVEST OIL WILL BE LATE IN ARRIVING
As we noted in our December "P.S. Sneak Preview", the new harvest oil will be arriving later than usual.
There was a shortage of raw materials for making tins, with the result that 5 litre tins were not available until recently.
We expect and hope the fresh oil to arrive in Waterloo in the latter half of May or early June.
PRICE INCREASE
Over the past several years we have resisted pressures to raise our prices.  A light crop year and other factors mean there will be price increases for our products this year.
In short, the new prices will be:
500 ml bottles of oil: will increase by $5 [from $20 to $25 for non-organic and from $30 to $35 for organic]
5 Litre tins of oil: will increase by $15 [from $105 to $120 for non-organic and from $155 to $170 for organic]
The pre-order price increases will be analogous and will be set out in our Pre-Order Newsletter (coming soon).,
IN-STOCK OLIVE OILS & OTHER PRODUCTS
For now our in-stock oils and products remain at the old prices.
We strongly recommend that you order what you need to tide you over until the new oil arrives.  Also, this is your last opportunity until 2023 to enjoy the KALAMATA and KORONI oils, as these growers' oils will not be available in 2022.
To order, simply go to our Online Store.  
LOOK FOR OUR PRE-ORDER NEWSLETTER, COMING SOON
Our pre-order newsletter will be sent in April.  When you receive it, be sure to place your pre-orders to take advantage of the significant discounts and to ensure you have your favourite oil in your pantry for the rest of the year.
The new oil is very fruity, has low acidity and of very high quality.  There's just not very much of it so be sure you don't miss out.
We'll be in touch soon.
Warm regards,
Robert & Deborah